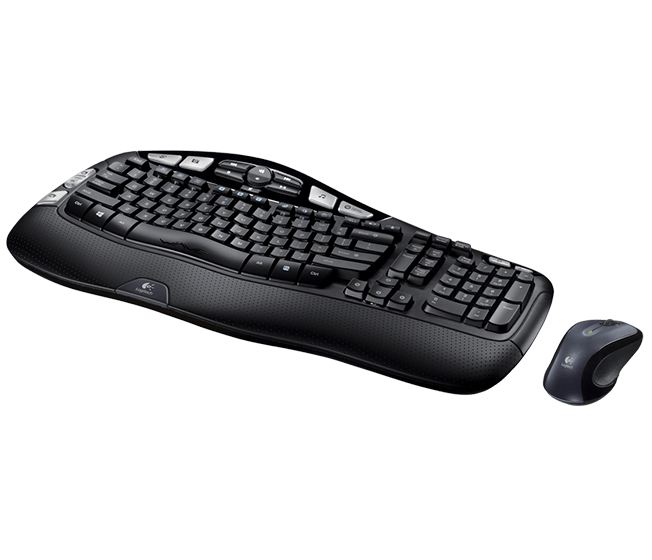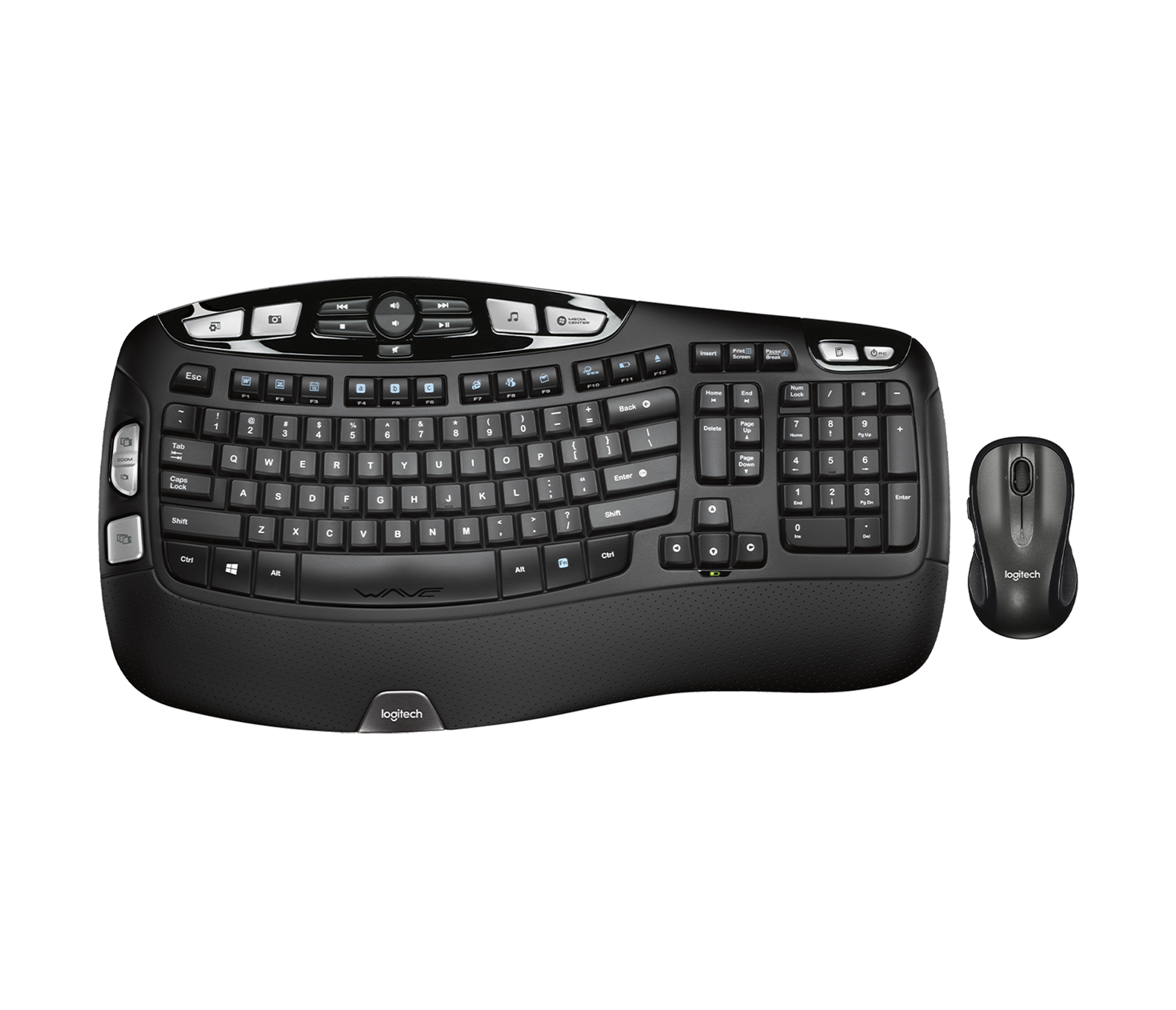 Logitech Mk560 Wireless Wave Combo Plus
With a Comfort Wave Design keyboard, a contoured laser mouse, and batteries that last, this wireless combo gives you a comfort curve without the learning curve?at home or at the office. Combines the amazing K350 Ergonomic Wave Keyboard with the top-shelf Logitech M705 Marathon Mouse!
K350 KEYBOARD FEATURES
Wave-shaped key frame

Your fingers vary in length. So with its gradual wave-shaped contour, this keyboard supports the actual, varied lengths of your fingers. Learn more about how Logitech created the Comfort Wave Design.
Three-year keyboard battery life

The extended battery life means you won?t spend your time tracking down new batteries.
Logitech Unifying receiver (controls both mouse & keyboard)

The tiny receiver stays in your notebook. Plus, you can easily add a compatible wireless mouse or keyboard?without the hassle of multiple USB receivers. Learn more about the Unifying receiver.
Advanced 2.4 GHz wireless

So you can work or play in more places?like your comfy couch?the long-range wireless connection virtually eliminates delays, dropouts, and interference. Learn more about Logitech wireless technologies.
Constant curve

The curved profile has a familiar shape and consistently sized keys, so you can type with comfort and confidence?without relearning how to type.
Cushioned, contoured palm rest

The palm rest helps position your hands comfortably on the keyboard?and offers a comfortable place to rest your palms when you?re not typing.
Adjustable keyboard height

Three options for leg height allow you to adjust the keyboard to the height that feels most comfortable to you.
Instant media access

Convenient one-touch controls give you instant access to volume and media playback. A dedicated button starts Media Center.
Programmable keys

You?re in charge with programmable F-keys you can easily customize to open your favorite applications, folders, or Web pages.
M705 MOUSE FEATURES

Three-year battery life

Up to three years of battery life helps you save time, money, and the planet by practically eliminating the need to change batteries. An indicator light lets you know when the battery is low.

Hyper-fast scrolling

You?ll fly through documents and Web pages with a single spin. Click-to-click scrolling gives you the precision you need when navigating lists, slides, and images.

Laser tracking
Laser precision means you?ll enjoy smoother tracking on just about any surface.

Sculpted, right-hand design

The sculpted, right-hand shape with stealth thumb button guides your hand to a naturally poised position and places customizable control within your reach. Comfortable hands like comfortable mice.
SYSTEM REQUIREMENTS
Windows 10 / 8 / 8.1 / 7 / XP, or VISTA
Available USB Port
Internet connection to download free software